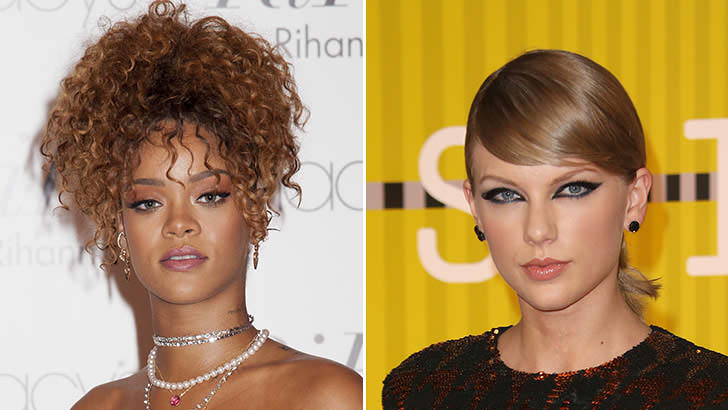 Pop diva, Taylor Swift, has so far shared her stage with many a famous fellow performers including Selena Gomez, John Legend, her personal hero Julia Roberts, Mary J Blige, Little Mix and Lisa Kudrow as famous character "Phoebe Buffay", but it appears that Swift won't be able to talk Rihanna into doing the same.
Not a Match
In an interview with NME magazine, Rihanna stated that she simply doesn't see the two of them collaborating and that it wouldn't make much sense as their
"brands don't match"
.
""I don't think I would, I just don't think it makes sense," Rihanna said. "I don't think our brands are the same. I don't think they match. I don't think our audiences are the same. In my mind, she's a role model, I'm not."
The interesting fact is that, although Rihanna won't be performing alongside Taylor, the Umbrella singer has collaborated with Taylor's boyfriend Calvin Harris back in 2011. Rihanna and Calvin recorded the song called "We Found Love", which soon became a huge hit.
Hmm… Is there some bad blood between the two pop divas due to this collaboration? Hope not, since we all know Rihanna isn't exactly a role model of modern pop scene. In fact, she said so herself.
"I can't really say I'm a role model. I'm not perfect. I'm not trying to sell that. I want people to have fun but be responsible, protect themselves and be in control of your life. You can never judge people. I always made that a point," the singer stated.