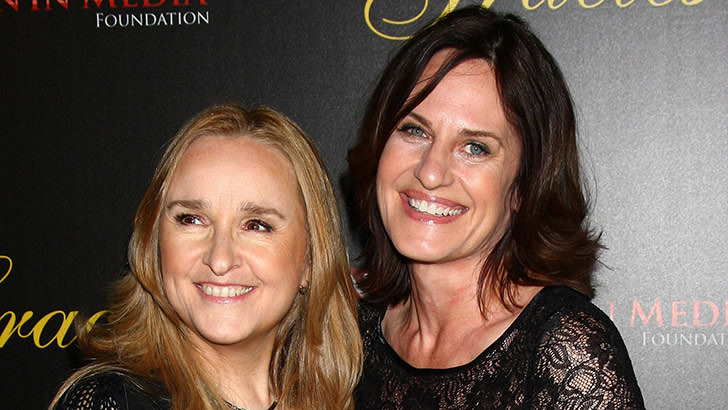 Congratulations, Melissa, and we hope the third time's the charm. Rock star Melissa Etheridge, who already has two high-profile relationships behind her, has married again. The Oscar and Grammy award winning artist married her girlfriend Linda Wallem, the creator and former showrunner of "Nurse Jackie" and former executive producer of "That 70's Show".
Interestingly enough, the two share the same birthday, and after celebrating their 53rd together on Thursday, the couple married on Saturday at San Ysidro Ranch in Montecito, California.
Etheridge announced her plans to marry her girlfriend in June 2013, just after the U.S Supreme Court struck down the Defense of Marriage Act.
"I look forward to exercising my American civil liberties and getting fully, completely and legally married this year to my true love of over three years, Linda Wallem," she said in her statement.
Later on she tweeted: "Let's hear it for the general progress of the human mind. With a beautiful sweep of sweet justice's blind hand we move forward."
The small and intimate ceremony was held outdoors, where the singer sang an original song she wrote just for Wallem.
All four Etheridge's children took part in the ceremony, and the guest list included fellow LGBT rights activist Rosie O'Donnell, musician Sia, and comedians Whitney Cummings and Chelsea Handler.
Etheridge was in a longtime relationship with filmmaker Julie Cypher during the 90's and had two kids with her: Bailey Jean (now 17) and Beckett (now 14). After their breakup in 2000, Etheridge married actress Tammy Lynn Michaels and in 2006, Michaels gave birth to Johnnie Rose and Miller Steven (now both 8). The couple split up in 2010.
The singer officially came out in 1993 and has been a prominent voice encouraging gay rights ever since.