The Academy Awards is a great opportunity for actresses, designers and viewers to take a good, long look at the fashion for the year. As usual, there were some really awesome dresses that made the wearers look even more beautiful. But, they were few and far between.
This year, a common thread between classic stage-divas such as Liza Minnelli and Bette Midler, and younger beauties like Anne Hathaway and Anna Kendrick is a big mistake. Here are 20 perfect examples of how the 2014 Oscars will be remembered as the night many designers went back to the drawing board.
1. Liza Minnelli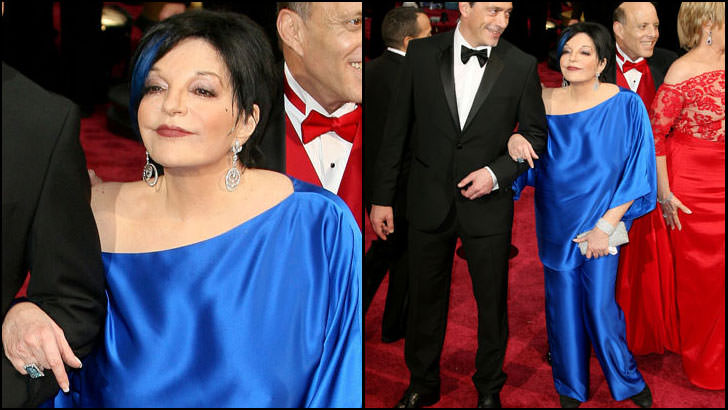 Sure, it is chic these days to show up to some fancy gig looking like you just came from the gym. And Minnelli will be fabulous no matter where she goes or what she does. But on the red carpet, she took it a little too far. This tunic and pants ensemble, while shiny, seems like she bought it before losing 50 lbs.
2. Anna Kendrick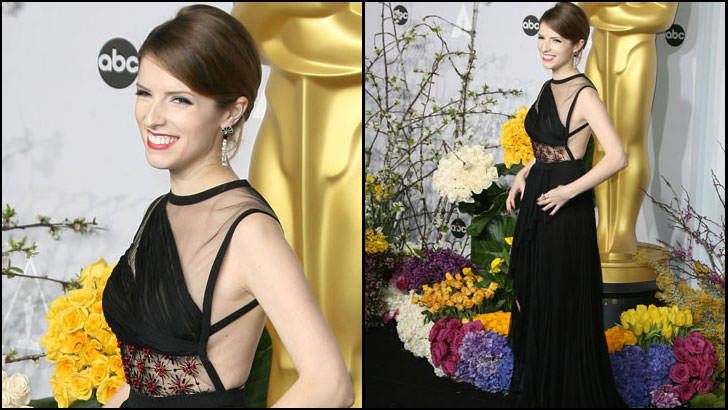 At the Oscars, people want to stand out. But dresses must have a reasonable function and not be too busy. Kendrick's dress just doesn't quite pull it off. The pleating and the asymmetry simply scream that she can't just wrap herself in a mourning shroud and go.
3. Goldie Hawn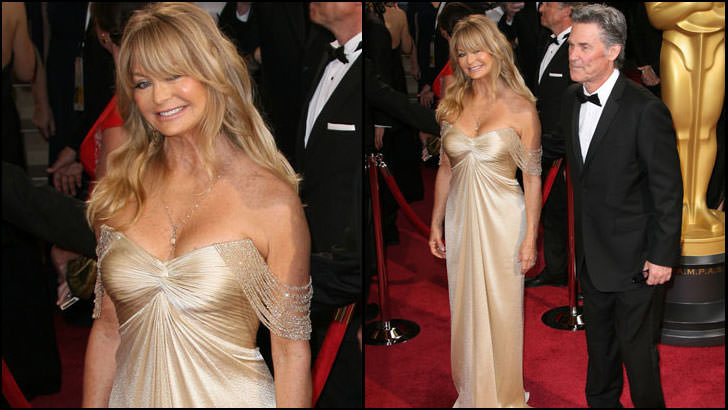 If there ever was a case for aging gracefully, Hawn is a classic example. The 68-year-old actress looks at least 20 years younger. And yet, her dress is sloppy. Most women are familiar with the struggle of keeping one's dress or bra straps from falling off the shoulder. At the Oscars, Hawn seemed to be trying to turn that faux pas into a misguided fashion statement.
4. Julia Roberts
Roberts looks classy in almost anything she wears. Almost. The frilly ruff around the waist of this black dress feels like an awkward mash-up between a trendy black evening gown and a French maid's uniform.
5. Anne Hathaway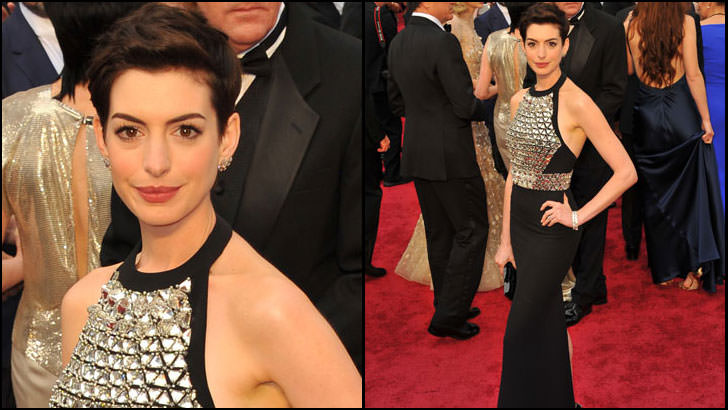 Celebrities usually need a little extra protection when they go out in the open. Hathaway took that literally, showing up in a halter dress resembling nothing more than something Joan of Arc might have worn. And it was so bright that she might have been better served to wear a sign that said, "No Flash Photography."
6. Veerle Baetens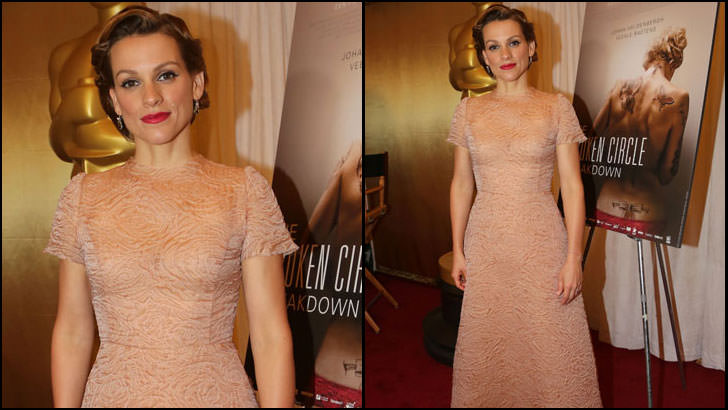 Some critics have said that certain actresses would look beautiful in a garbage bag, much less an expensive dress. But look, here's Baetens wearing a garbage bag! And it's a wrinkled one, at that.
7. Lady Gaga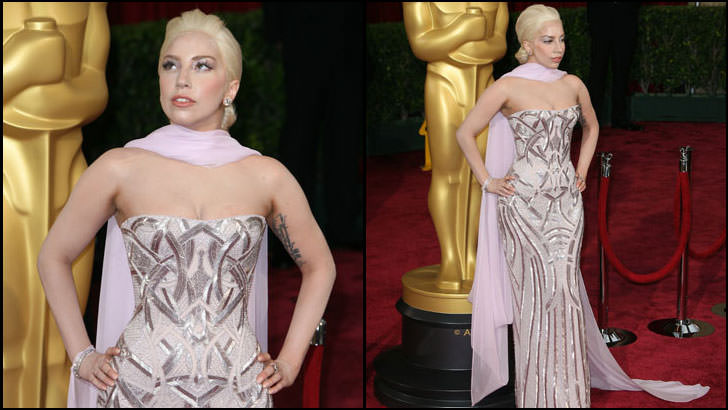 People expect beautiful things from Lady Gaga, and they usually get it. Instead, she looked vaguely stoned and tired in her white Halloween skeleton costume. And the dangling scarf only improved the impression that she'd rather be hanged than hang around with these people.
8. June Squibb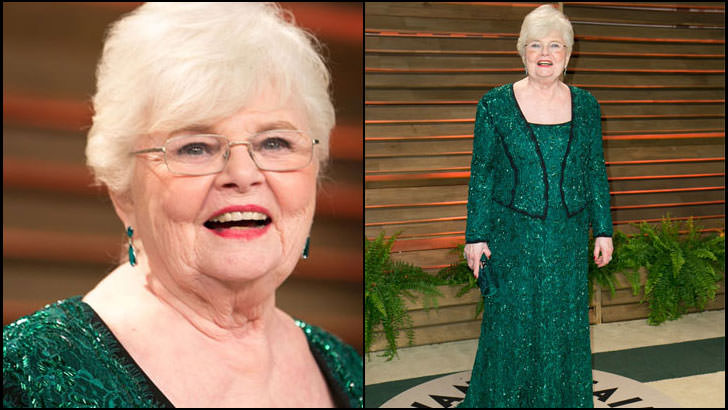 For some actresses, once they reach a certain age, they blend into the background and seem to disappear. Although that has definitely not been the case for the 84-year-old Squibb, her dress tells other tales. Her emerald get-up feels more suited to an evergreen forest than the most fabulous gala of the year.
9. Penelope Cruz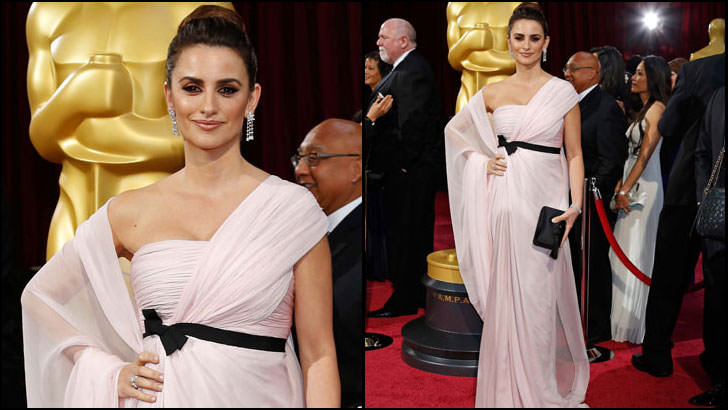 A major feature of this year's Oscar dresses seems to be the postmodern ideal that less is a bore. As such, designers added just enough to take a simple, classic dress and make it overly complicated. Cruz would have been perfect without the wraparound.
10. Glenn Close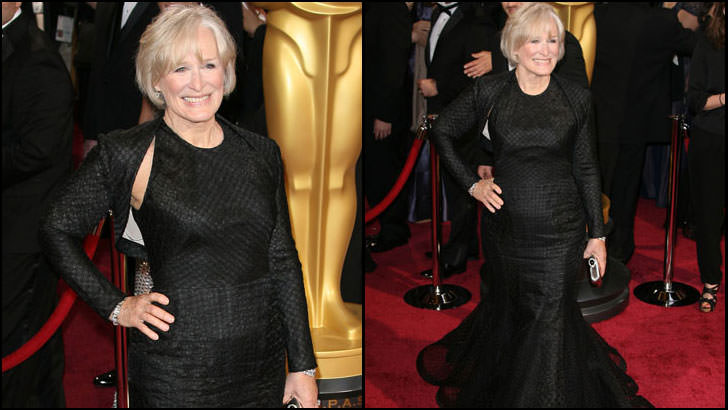 The fabric of Close's dress is not bad at all, especially compared to others on this list. But the whole setup is wrong. For one, she looks like a mermaid with the tight thighs and wide leg of the dress. And she might have done better if she'd just ditched the jacket and gone sleeveless.
11. Sally Hawkins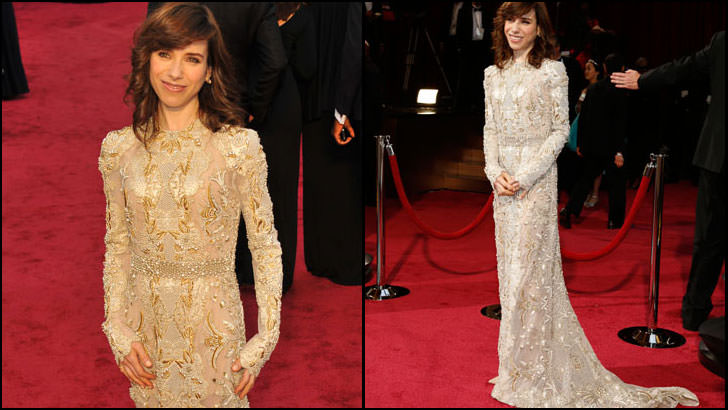 Based on Hawkins' dress, people may have wondered if she had played some understated role in "Downton Abbey." But seriously, her heavy and overly conservative number harks back to Grandma's antique wedding dress moldering in the closet.
12. Angelina Jolie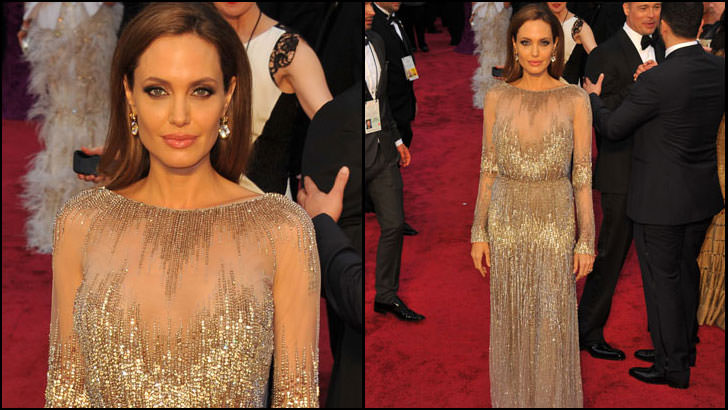 Putting dry-clean only clothing in the washer may yield some disastrous results. And yet, here is Jolie wearing a dress that looks more threadbare than any rough treatment could allow. It is possible that Jolie is trying to cover up her recent, drastic weight loss. But she seems to have gone too far in the other direction.
13. Kristin Chenoweth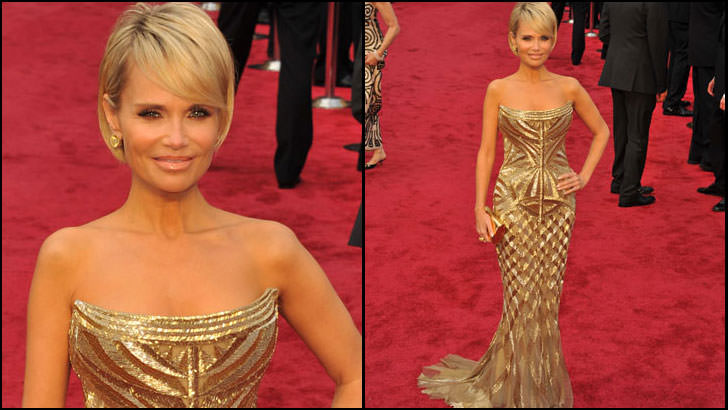 Anyone who can get past the dizzying contradiction in patterns on Chenoweth's gold dress might have found a disturbing association with the icon shown behind her. She did not intend to imitate the statuette winners take home from the Oscars, did she?
14. Kerry Washington
When women are pregnant, they have limits on the kinds of fashions they can support. But that does not mean they cannot have any shape at all. Washington is strikingly beautiful. But her disaster of a dress harks back to the sailcloth Ariel wore in "The Little Mermaid."
15. Bette Midler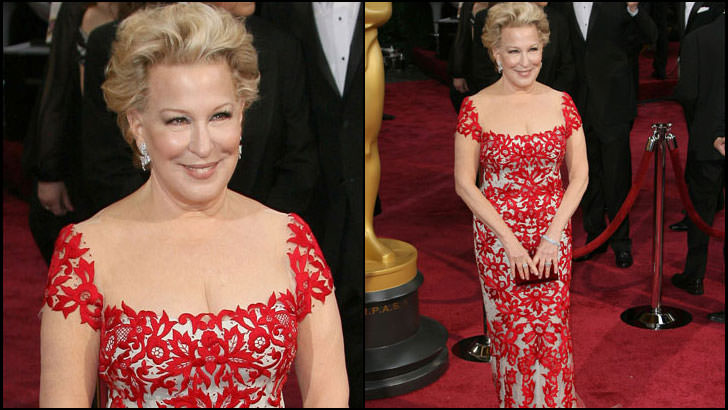 Midler is another woman who seems to get more fantastic as she ages. And yet, perhaps red was not the best choice for the red carpet. Besides the obvious and painful clash of shades, the pattern is a little distracting. Even so, it's leaps and bounds better than the vertical stripe number she wore for her performance of her familiar hit, "Wind Beneath My Wings."
16. Elsa Pataky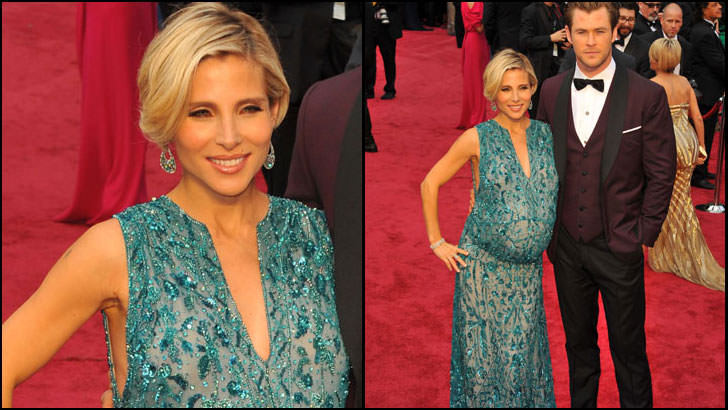 If anyone should have the right to claim a little extra fabric, it is Pataky. The wife of Chris Hemsworth is due to have twins later this spring. But even a pregnant woman deserves something decent. Her teal dress was more than a little busy. And the "side boob" view it afforded the whole world was something better left to the imagination.
17. Meryl Streep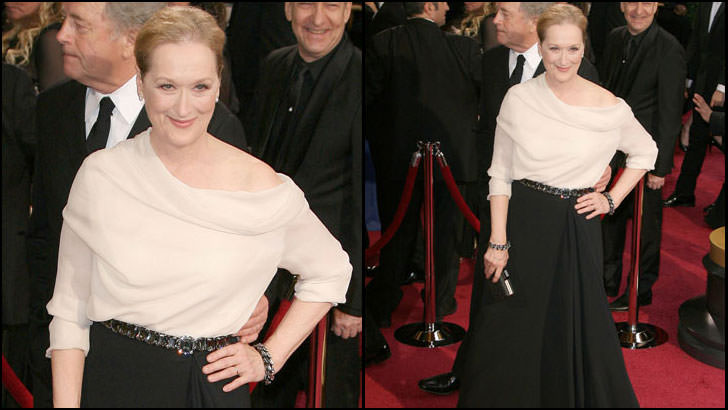 Streep is bordering ages. She can still look glamorous, but she can't pull off a really flashy design. She's definitely not one of the worst on this list. But her dress leaves her looking a little too much like Cruella de Vil.
18. Charlize Theron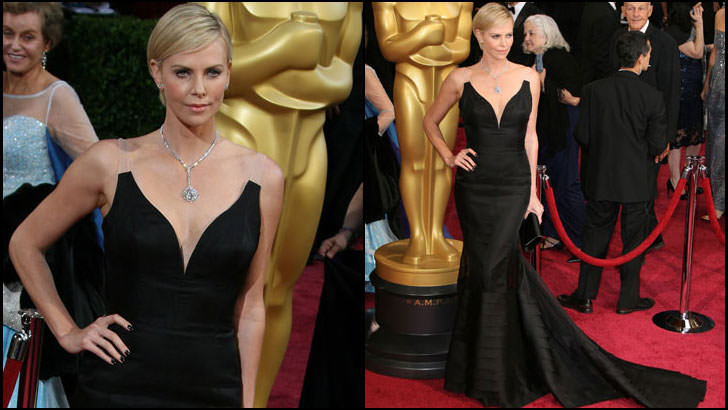 It is plain that Theron is one of the most gorgeous beauties on the red carpet. But in this dress, she appears to have taken Angelina Jolie's "Maleficent" crown and stretched it into a top. Those horns would poke an eye out, if she were not careful.
19. Julie Delpy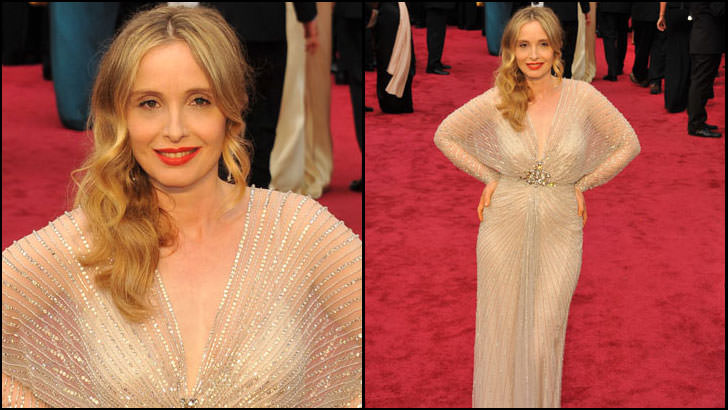 A major problem with the wide, gauzy sleeves is that they give the impression your chest region is much larger than it is. Delpy wears it with a clasp near the waist that neither accentuates nor hides her bust.
20. Portia de Rossi
A lovely lace dress could make any woman look fantastic for her night on the red carpet. But one must consider the combination. De Rossi, with her stripy highlighted hair and an outfit made of doilies, looks more like a 19th Century Madam than the wife of comedian Ellen de Generes.