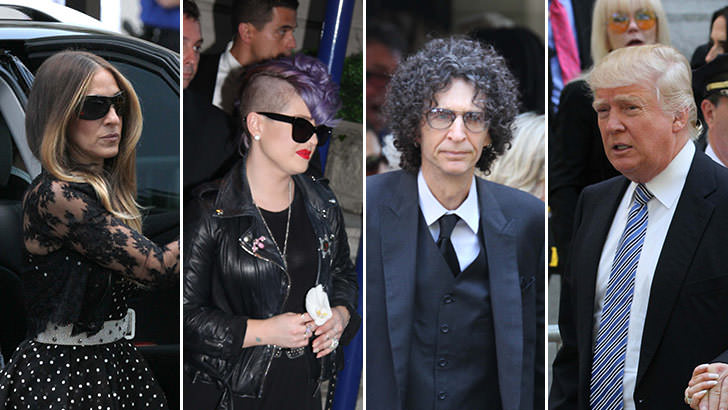 The comedienne and television star lived a life of glamour, fame and paparazzi, and that's exactly the way she was laid to rest on Sunday. Joan once mentioned she wanted journalists, paparazzi and many a celebrity at her wedding. "I want a huge showbiz affair" she said and that's exactly what she got.
Memorial
One by one big shots and celebrities were seen arriving at the Temple Emanu-El, Manhattan synagogue.
Sarah Jessica Parker, Whoopi Goldberg, Michael Kors, Carolina Herrera, presenters Kathie Lee Gifford and Hoda Kotb were some of the first to arrive.
Kelly Osbourne and Giuliana Rancic, who were Joan's Fashion Police co-hosts arrived together and entered the Temple holding hands.
Donald Trump also attended the funeral, alongside his daughter Ivanka and his son-in-law Jared Kushner.
Howard Stern and his wife Beth Ostrosky Stern were also present, while journalist Barbara Walters greeted the crowd with a wave as she entered the Temple.
Joan went with a bang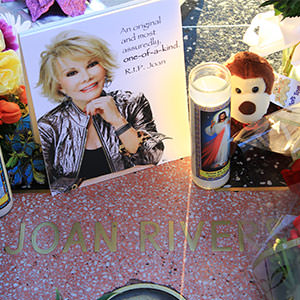 Joan, who was known for her bold humor and sharp tongue, had previously joked about dying of natural causes, stating it was boring and uneventful.
"It's the grand finale, act three, the eleven o'clock number – make it count. If you're going to die, die interesting! Is there anything worse than a boring death? I think not," said Joan.
In her book that went out in 2012, the comedienne wrote that she wanted her memorial to be a large affair and that she wanted to go down with style.
"I want my funeral to be a huge showbiz affair with lights, cameras, action. I want Craft services, I want paparazzi and I want publicists making a scene! I want it to be Hollywood all the way. I want Meryl Streep crying, in five different accents… I want a wind machine so that even in the casket my hair is blowing just like Beyoncé's," joked Joan.
Rest in peace, you crazy old bat. We are surely going to miss the crap out of you.