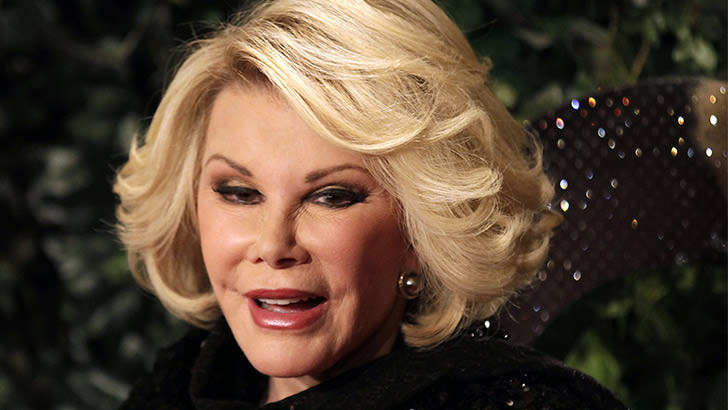 She was groundbreaking, controversial, outspoken, witty and ahead of her time. She was quick. She was funny as hell. Her razor-sharp humor and wit could cut through any form of dullness. She could make you feel stupid, no matter how smart and sharp you thought you were. Simply, she was a true one of a kind comedienne. Joan Rivers dies aged 81.
Road to stardom
Joan was born in Brooklyn in 1933 to Russian immigrants Meyer and Beatrice Molinsky, Joan Alexander Molinsky and she attended Barnard College, where she graduated with a Bachelor of Arts in English literature. However, it wasn't literature that made her famous, it was her sense of humor that caught attention and placed her as a regular guest on "The Tonight Show" with Johnny Carson.
She went on to host other famous talk shows, winning awards for her own "The Joan Rivers Show." More recently, she became a regular red carpet fashion and ego critic co-hosting Fashion Police portraying her scary power of sarcasm.
Joan later appeared on "Saturday Night Live," had her own chat show called "The Late Show Starring Joan Rivers," and also appeared in three episodes of the TV show "Nip/Tuck" during its second, third and seventh season, playing herself.
In January 2008, Rivers became one of 20 hijackers to take control of the Big Brother house in the UK for one day in spin-off TV show Big Brother: Celebrity Hijack. On June 24, 2008, Rivers appeared on NBC-TV's show "Celebrity Family Feud" and competed with her daughter against Ice-T and Coco.
Keep on laughing
Many people hated her for her fiery sarcastic takedowns of many celebrities, but she has always been turning her blind eye to these shallow remarks and always moved on keeping her chin up.
However, she had a softer private side. Her friends will always remembering her as a graceful and kind figure who was also a big philanthropist. In particular, she donated to Jewish charities, AIDS organizations and animal welfare efforts.
Joan Rivers died on September 4th 2014 during a complicated surgery, and this is what her daughter Melissa had to say to all of us who will remember Joan as she would have wanted us to remember her – with a huge smile on our faces.