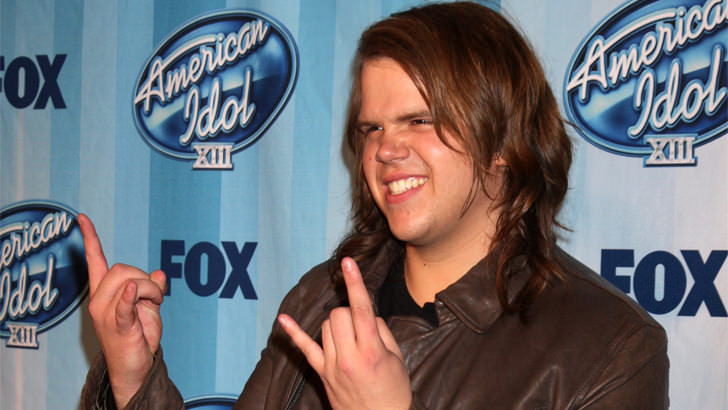 The 23-year-old rocker Caleb Johnson from Asheville, North Carolina, triumphs at the new "American Idol" on Wednesday. After host Ryan Seacrest made the announcement, Johnson received hugs from his fellow season-13 finalists. He then performed his new single, "As Long As You Love Me," as confetti fell from the ceiling.
The winning finalist sang three songs during the show – Aerosmith's "Dream On," Paul McCartney's "Maybe I'm Amazed," and an original song called "As Long As You Love Me." This was Johnson's third stint on "American Idol."
He previously competed on season 10, when he reached Hollywood Week, and season 11, when he advanced to the top 42. As a finalist this season, he never fell into the bottom three.
Both Johnson and the runner-up Jena Irene, a 17-year-old resident of Farmington Hills, Michigan, received a 2015 Ford Mustang. The winner also received a recording contract, and will be releasing an album on August 12.
Irene sang Paramore's "Decode," then teamed up with her favorite band for a rendition of their song "Ain't It Fun." It was a fun night for the judges, too. Jennifer Lopez entertained the crowd with "First Love."
Later, she shared the stage with fellow judges Keith Urban and Harry Connick, Jr., as well as mentor Randy Jackson, for Cyndi Lauper's "True Colors" and Fleetwood Mac's "Go Your Own Way."
The two-hour-plus broadcast opened with Caleb singing Queen's "We Will Rock You," Irene taking on No Doubt's "Just a Girl," and the both of them sharing vocals on "It's Only Love," by Bryan Adams and Tina Turner. This season's finalists will embark on a 41-show "American Idol Live!" tour this summer, beginning June 24 in Binghamton, New York.